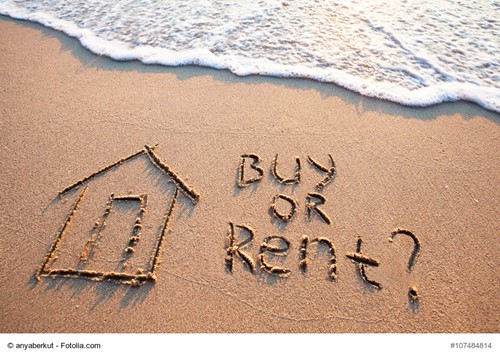 The rent vs buy dilemma is something that Americans have been facing for decades. Both options have their benefits, and it's really a matter of timing and preferences when it comes to choosing which is best for you.
However, there are a lot of things to consider before making this decision. So, in today's post we're going to break down some of the benefits of renting an apartment and of buying a home. That way you can make your decision with a clearer picture of what each situation looks like.
One thing to note first, however, is that it isn't always as simple as buy vs rent. Some living situations draw on the pros of each type of living. For example, living in a condo might be a good option for people who want the privacy and independence of owning their own home, but who also don't have the time or desire to keep up with maintenance.
So, as we compare buying and renting, keep in mind that the features of each are not mutually exclusive.
Renting an apartment
Most people who are living on their own for the first time start off renting. For younger people just out of school, renting offers the first taste of independence without the prerequisites of homeownership.
When you rent your first apartment, you'll learn the skills associated with budgeting for your monthly expenses, making your rent payments on time, and will start learning some of the skills that it takes to run a household.
In terms of monthly costs, apartments can vary greatly. Depending on where you live (and how luxurious the apartment is) you could end up having rent and utility payments that are much lower or much higher than mortgage payments for a house.
However, apartment leases often come with the benefit of utilities, trash removal, and other expenses built in. They also typically require the landlord to maintain the apartment and the land it sits on.
Live in the northern part of the country and hate shoveling snow? Make sure your lease specifies that your landlord will provide snow removal.
One technique that many renters take is to find an apartment that is small and affordable while they save up for a home. In this case, it's worth living with fewer amenities if your end goal is saving for a down payment.
But, what if you want to own a home someday but haven't quite decided where you want to settle down? Maybe your work keeps you moving from place to place or you've always wanted to move away to somewhere new.
Renting is typically a better option for those who aren't quite sure what their plans are for the next coming years. They can have a stable place to live while they figure things out and plan their next move.
Buying a home
Once you've rented a home for a while, you might become increasingly aware that you want more space and more control over your home.
You're also likely noticing how much money you spend on rent each month that is essentially a net loss.
When you buy a home, your mortgage payments might be going to the bank, but someday the money you've paid toward that home will be yours in the form of equity. You can then use this as a down payment for another home.
This financial benefit cannot be understated. Since house values dependably increase over time, owning a home is a great investment toward your future.
So, those are the main pros and cons of renting vs buying a home. Think about your circumstances and determine which one makes the most sense for you right now. Then, start planning for the future.