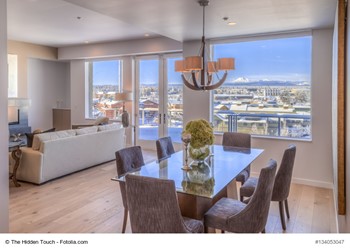 Home staging is one of the most tried-and-true methods of selling your home faster. It can also help you increase the purchase price of your home by between one and five percent.
However, working with a professional home stager--while a good investment--is not always in everyone's budget.
The good news is, there are a lot of simple and inexpensive ways to stage your home that will give visitors a good first impression, make for great photos for your online listing, and hopefully help speed up your home sale.
In today's post, we're going to break down six of the most effective and inexpensive home staging tips to help you sell your home faster.
1. Declutter everything
Cleaning out your home is one of the best ways to make it appear more spacious and welcoming. It gives you the chance to start packing items you won't need until you move into your new home, and it opens up space to use a few choice decorations around the home.
For things like cabinets and closets, remove all of the items you won't need until you move. A closet that is half-full will look much larger for guests viewing your home.
2. Clean carpets and polish wooden furniture
Carpets, flooring, and furniture make up a large percent of the visible space in your home. Leaving these items dirty or worn when selling your home is missing out on a huge opportunity to make your home look up-to-date and well-maintained.
You can rent a carpet cleaner for as little as $20, and a gallon of wood polish costs around $15, making these two items a solid investment for staging your home.
3. Paint with bright colors
When we paint our homes we usually choose colors that we like, rather than ones that appeal to the largest number of people. And although that's a great thing while you own a home, it can be detrimental when it comes time to sell. Repainting dark walls in bright, neutral tones will make the room feel larger and well-lit.
4. Paint the front door while you're at it
A freshly painted, bright colored front door can be the secret weapon when it comes to making your home stand out amongst your neighbors. It is a cheap way to quickly freshen up the exterior of your home and increase curb appeal.
5. Purchase a new welcome mat and mailbox
Welcome mats tend to get a lot of use and wear down. Similarly, mailboxes often get dented and faded over the years.
These two items can be excellent accents to improve the curb appeal of your home. Choose colors that match the overall color scheme of your home to establish a sense of continuity.
6. Rearrange furniture to allow foot traffic
When someone comes to view your home, you'll want to sure they have ease of access to each part of the house. Rearrange the furniture in your kitchen, dining room, and bedrooms to make it easy to tour the home.